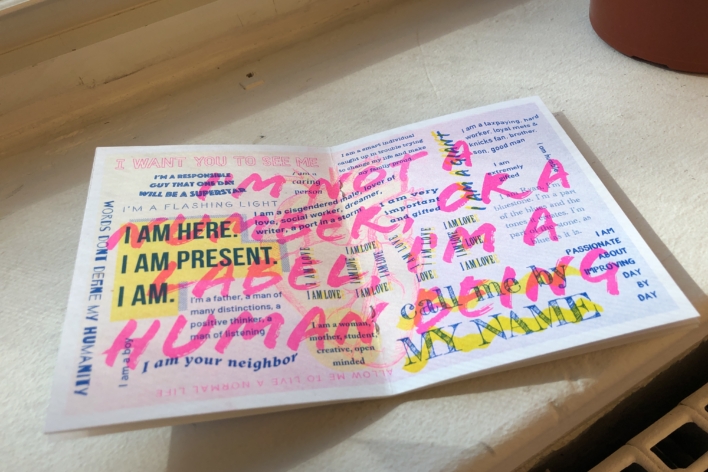 "Language Re-Formed":  a curated exhibit at DSI facilitated by DSI faculty, Alison Cornyn and Laura Ceron Melo (MFA DSI '21). 
The interactive exhibition – organized for DSI's Open House on November 18, 2022 – bridged two projects featuring themes and artifacts around how language and power shape stigma and perceptions of systems of incarceration.
Laura Ceron Melo's We Are More than a Label zine* is co-created with the Fortune Society to raise awareness of the impact that language has on shaping, creating, and limiting our perceptions, imaginations, identities, and lives–especially in the case of those affected by the criminal (in)justice system. The zine is born from learnings from Laura's thesis project, Art Portal, and explores how the use of words like "felon", "criminal", and "inmate" can cause damage and deepen the social stigma against folks who have been impacted by the system of incarceration, and offers meaningful alternatives in support of community members desire to be treated with dignity. As an extension of support for those impacted by mass incarceration, postcards with artwork by impacted community members will be available for visitors to send life-affirming messages to our siblings incarcerated at Rikers Island. To learn more visit Laura's website and Art Portal. 
Alison Cornyn's project, Incorrigibles, is a tactile, visual telling of hidden histories, investigating youth justice and social services for girls–and the language historically used to define and confine girls and gender non-conforming youth. It draws on the experiences of formerly incarcerated women combined with deep research into historical archives, sociological studies, governmental reports, and films. Incorrigibles offer a bridge from the past to the present of girls' incarceration; a means to emotionally and intellectually engage with what has and has not changed in youth justice and girls' detention over the last 100 years. To learn more visit the Incorrigibles website. The embroidered "Language Sampler" tapestry is done in collaboration with Diana Weymar. 
"WE ARE MORe than a label" zine was done in collaboration with Lionel "Doc da Edutainer" Limage, Helen Taylor, The Great Mr. West, Rafael Zarzuela, Marquis Wade, Bluestone, Felix Guzman, Beckyjane Dunham, Roslyn Svedsen, Nestor "Panama" Eversley, Hilton N. Webb, Jr., Deacon Ireal K. Jacobs, Jose Martinez, Nysaiah Marrero, Vickie Darden, Waldemar Lopez, Erobos Abzu Lamashtu, and Jamie Maleszka.