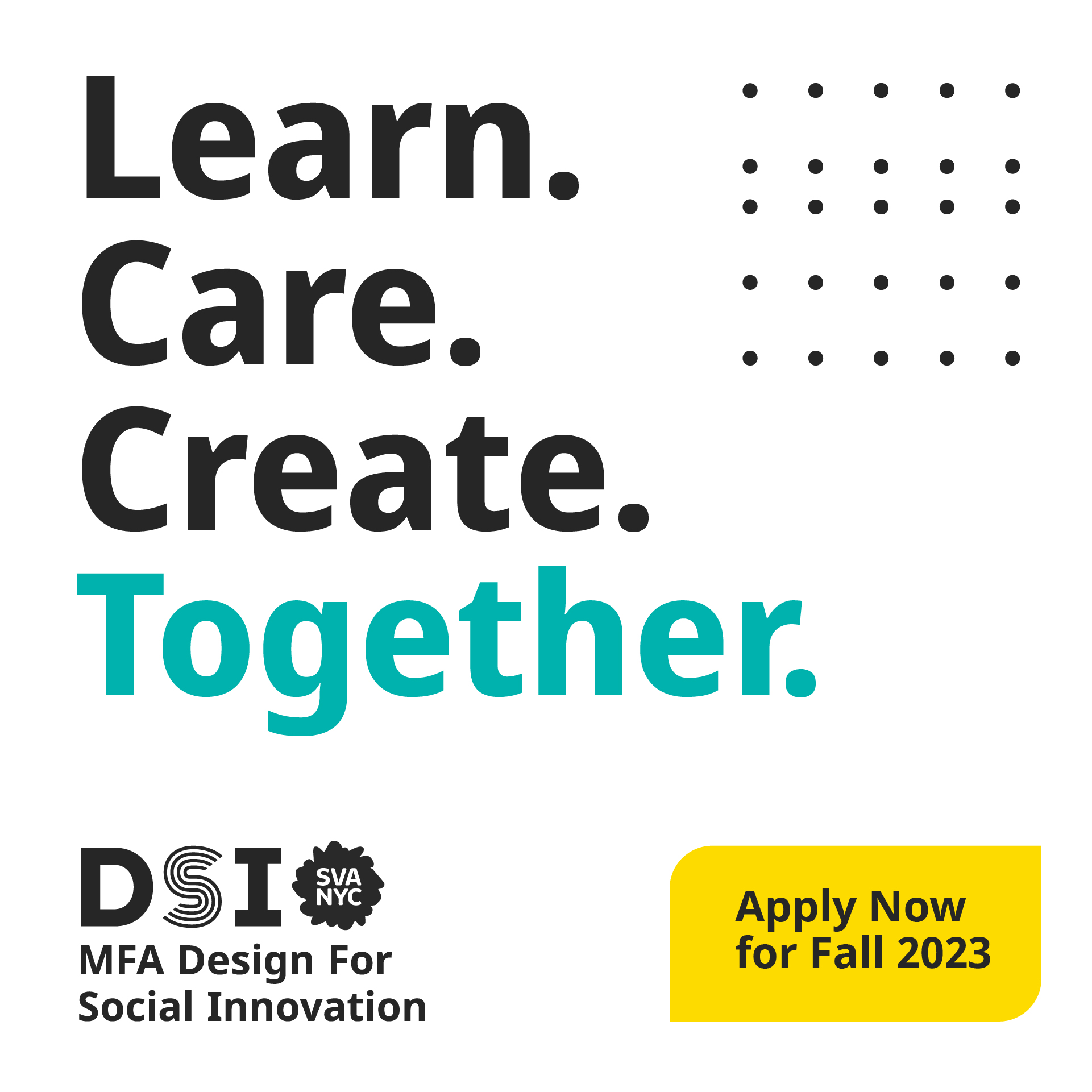 Apply Now to join us in
Fall 2023
Start thinking about your future now!
DSI is a graduate social design program asking:
How can design offer pathways that shift us towards healthy, equitable systems?
What conditions and collaborations enable communities, systems, and nature to thrive?
How can social design increase care and our capacity
for change?
Social design

works with communities, organizations, governments, businesses, and the planet through:
Strengthening Relationships + Care
Advocating for health, equity, anti-discrimination, justice, joy, and healing, Supporting shared values and interdependence, and honoring nature's wisdom.
Design asks questions over solving problems, with care.
Intentionally
Co-Creating
Collaborating with communities, advocating for mutual benefit and abundance. Centering lived experience, while reducing harm.
Design can shift power, while building leadership and creatively responding.
Embracing Complexities
Breaking from things that no longer serve us. Recognizing the continuum and pluralities, and making the invisible visible.
Design supports new thinking over new things to imagine possibility and lead with vision.
Events
Virtual Event - Ask Us Anything!
Wednesday, December 14, 9 - 10 am EST
With one month until SVA's priority application deadline, MFA DSI invites prospective students to "Ask Us Anything!".
Drop into this virtual event to find out why socially-minded designers and thinkers from around the globe are coming to DSI and why you should plan to get your applications done by January 15.  
EVENTS
Afterthought: The Gut Check Workshop with George Aye
Join us in an interactive workshop with George Aye, co-founder of Greater Good Studio as he walks us through a process for defining your own rubric to evaluate clients. Nothing feels better than saying "no" to work that you don't believe in.
RSVP Now
Lectures
Lokelani Alabanza, Founder of Saturated Ice Cream
We had the pleasure of welcoming chef, author, and ice cream maker extraordinaire, Lokelani Alabanza to DSI to speak about her company Saturated Ice Cream! It was a delightful treat – check out her full lecture!
Watch Here
Blog
"Language Re-Formed" at DSI
DSI displayed "Language Re-Formed", a curated exhibit highlighting timely and important work by DSI faculty, Alison Cornyn and Laura Ceron Melo (MFA DSI '21).
Read Blog