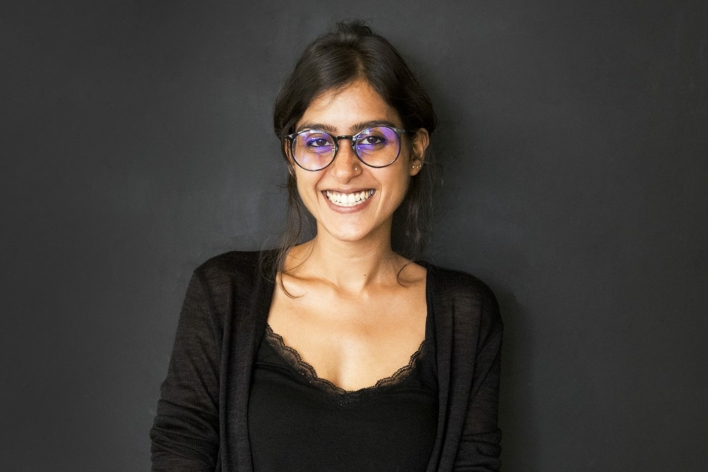 June 2022
Alisha Mahen (MFA DSI '20)
"It is important to actively listen to the individuals and communities we work with, while constantly remembering that we are not the experts. I feel what helps the most in working with people to transform lives are the relationships we build with them and the values we hold on to for ourselves."
Alisha Mahen (DSI '20) identifies as a teacher-turned-designer. For six years before enrolling at DSI, she worked in a range of roles in the education sector in India–as a teacher, curriculum developer, and instructional designer. Most of these experiences involved working closely with underserved communities, through which she developed her passion for working with rather than for her collaborators. In this world, she realized that communities often had remarkable solutions to their own problems, but their voices were rarely taken into consideration for decision-making and designing processes. This, coupled with her understanding of design as a tool for problem solving, put her on a path to work at the intersection of design, communities, and education and ultimately led her to us.
While at DSI, she learned to approach complex problems strategically, be inclusive of multiple voices in decision-making, be comfortable with not having all the answers, build relationships, and create safe spaces for people to maximize their potential–all of which continue to illuminate her current work. In specific classes such as Leadership with Karen Proctor and her Thesis process, these skill sets were amplified and highly transformative, and she states that it was "sort of a one-year therapy with myself. It helped me really get in touch with and understand myself better, and actively ask myself difficult questions."
Alongside the academic takeaways, something she is extremely thankful for is the opportunity to work alongside people with similar values, which motivated her tremendously to join Acumen Academy. Acumen fell right at the sweet spot between her worlds of design and education, and she joined their team as an instructional designer, inspired by Acumen's efforts to build people's capacities by making relevant knowledge and skills accessible to folks around the globe.
Since joining the Acumen team, Alisha's primary work involves designing learning experiences for a series of courses and programs that aim to develop leadership skills and capacity for change for individuals from various contexts. To do this, she helps design rich interactions between participants and groups, plans the scope and sequence of learning objectives, engages with participants to deeply understand their needs and experiences, and measures the success for the participants.
For future DSI-ers, Alisha had this to say: "While I am no expert in the field, I think, first and foremost, folks should be open to stepping into discomfort. Embracing conflict, trusting the process, and completely immersing oneself in experiences is a transformative process – one that changed me as a person completely."