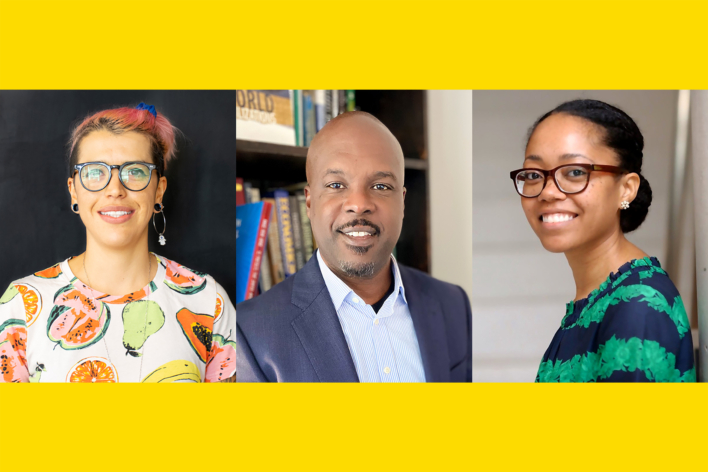 This fall, we eagerly welcome back some familiar faces as faculty! Designer and DSI graduate Laura Ceron Melo ('21) will be guiding our first years through their first semester in their Understanding Natural & Social Systems course, returning faculty member Kobla Asamoah will resume teaching Entrepreneurship to our second years, and past global guest participant Lona Vincent will be joining our incredible thesis advising team. A little more about them all below:
LAURA CERON MELO – Understanding Natural & Social Systems
Laura ('21) is a queer designer from Colombia living in Brooklyn, NY whose professional practice sits at the intersection of design, art, and activism + advocacy. She is a recipient of the Artist Employment Program grant from the Creatives Rebuild New York initiative, and currently is a Teaching Artist and Arts Strategist at The Fortune Society, which she co-created her MFA thesis with.
Laura has worked in-house and independently as a graphic/visual designer and communications strategist in the non-profit sector (social services, arts), the publishing industry, and the startup arena (materials science + informatics, online retail), and continues to do contract work in those fields. She also feels deeply passionate about Riso printing.  
In general, Laura is interested in the capacity of design to understand, reimagine and create new systems, and its power to communicate social imperatives, challenge the status quo, and foster individual and collective healing. She is committed to the common good, to acting and designing responsibly and sustainably, aiming to minimize harm, alleviate suffering, and make life easier and happier.
KOBLA ASAMOAH – Entrepreneurship 
Kobla Asamoah is a professional and educator with years of experience supporting entrepreneurs and the startup community. 
Beyond teaching, Kobla serves as the Sr. Director of Accelerator Operations at Caminus Ventures, an accelerator program targeting Black entrepreneurs leading food, beverage and related businesses. Prior to Caminus, Kobla served as Head of Small Business at Hot Bread Kitchen, a social enterprise based in NYC. There he focused on growing an incubator program committed to supporting underrepresented entrepreneurs in the industries of food and beverage, providing these entrepreneurs with resources meant to aid in their growth ambitions. Kobla has also worked for a number of non-profit organizations, focused on community revitalization through economic development.
Prior to his non-profit and social enterprise work, Kobla spent several years in the Capital Markets, working with mid to large size companies on corporate finance, investor relations and other institutional ownership related topics. Kobla holds an MBA in finance and entrepreneurship from NYU's Stern School of Business as well as a BA in International Relations from Tufts University.
LONA VINCENT – Thesis Advisor
Lona works in strategy and innovation at Johnson & Johnson's design studio where she leads a team of venture designers interested in shaping the future of innovation. In her role, she supports J&J's investment strategy and builds new products, services, and business models for the consumer health, med tech, and pharmaceutical portfolios. Lona has a Masters in Public Health and Behavioral Science from Columbia University where she focused on management and digital health and studied business at Cornell University. As a leader in the design community, she advises graduate programs at Parson's School of Design, School of Visual Arts, and Cornell Tech. Lona lives in New York City where she enjoys weekend brunch and scouting and investing in diverse founders and startups.