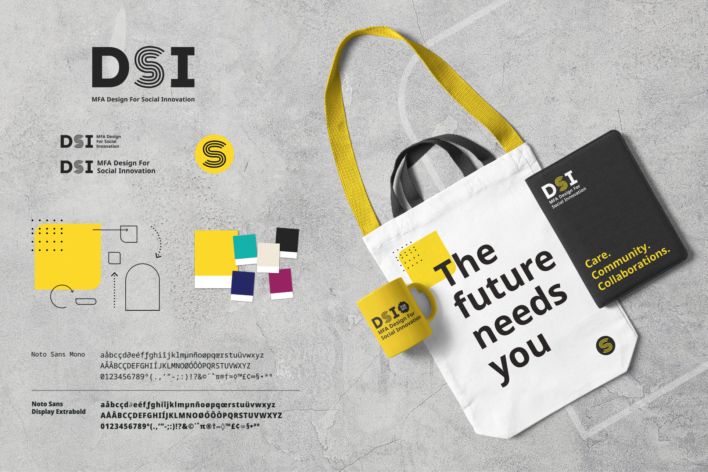 The following is from the Indigo Award announcement page.
As a graduate department in the School of Visual Arts (SVA), the MFA Design for Social Innovation (DSI) program explores design-based practices that facilitate the conditions and relationships resulting in lasting social change. DSI supports enduring connections in art and design to increase creativity and imagination in all aspects of life.
The rebrand aimed to show how the program had evolved in curriculum, positioning, and clarity of messaging.
Brand strategy unveiled additional goals of recruitment, brand visibility as a resource for the social innovation field, and continuing to build a network. As such, we ensured the visual identity was a balance of approachable, credible, and flexible with room to grow.
Design decisions were based on cornerstone values: creativity, care, collaboration, and community-in-practice. We centered the people that held these values at the heart of the rebrand: students, alumni, partners, collaborators, and faculty. For example, we chose an international typeface designed for global community to suit the multiple languages the students and faculty used. The supporting visual elements represented the mindsets of the DSI community. Dotted lines, instead of solid, represented the iterative approach of the curriculum and the idea of leaving space for intentional curiosity and inquiry.
CREDITS:
– Miya Osaki, Chair at DSI
– Carolyn Cesarotti, Director of Operations at DSI
– DiMitri Martin, Systems Administrator at DSI
– Gale Linares, Program Coordinator at DSI
– Liz Jackson & Alex Haagaard & Jennifer Rittner of The Disabled List
– Website Design & Development by 1 Trick Pony
– Content strategy by Iris Xie
– DSI students, faculty, and designers-in-residence far and wide of past, present, and future