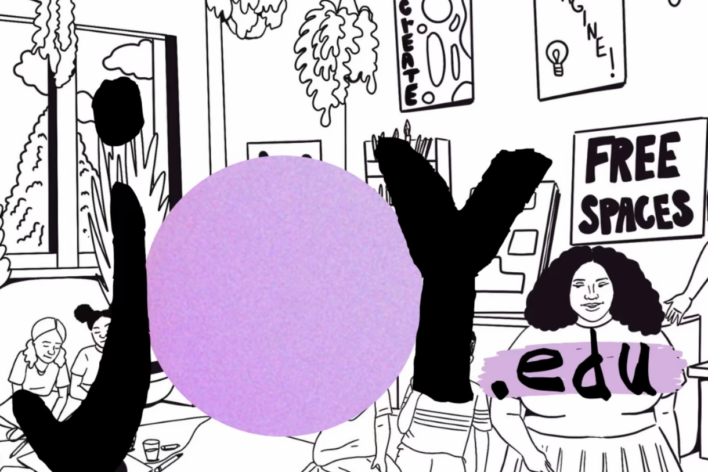 Many MFA Design for Social Innovation students create thoughtful explorations at the cross-section of progress, activism and design, often growing their thesis work after graduation.
One such alumnus and changemaker is Mickey Ferrara (MFA DSI '22), who is doing timely work on two projects that, while different from one another, each focus on supporting communities in New York City.
Ferrara's Joy.edu is a youth-led radical re-imagining of what classrooms and educational spaces look like throughout New York City. Ferrara's background as a youth worker and public school teacher, together with her extensive research, workshops and social experiments, led her to create this collaborative digital platform. Joy.edu is a space for crowd-sourced creativity and input where actual NYC public school students can share their visions for their classrooms.
Mama's Care Mobile came about as part of Ferrara's Fast Track project "Day of Action" in the DSI program. Repurposing out-of-commission ice cream trucks as "care mobiles" for families in Brooklyn's Crown Heights community, Ferrara and her team of volunteers brought local doulas, diapers and formula to Jackie Robinson Park. The event was a great success, with over 2,000 diapers dispersed and more than 50 families receiving care. We recently spoke to Ferrara about both projects.
---
Where did the idea for Joy.edu come from?
"Joy.edu" is an invitation to world-build, imagine and design beyond the constraints of the present, and bring joy and education together in a deep and meaningful way. This work is an altar to youth-led movements and freedom fighters across space and time, the young people who guide us as ancestors and the young people rising up today for the spaces they want and need right now. During the pandemic, my community lost many incredible young people and while I was choosing what I would dedicate my time to for my thesis, my grief and love for them became a big part of my "why."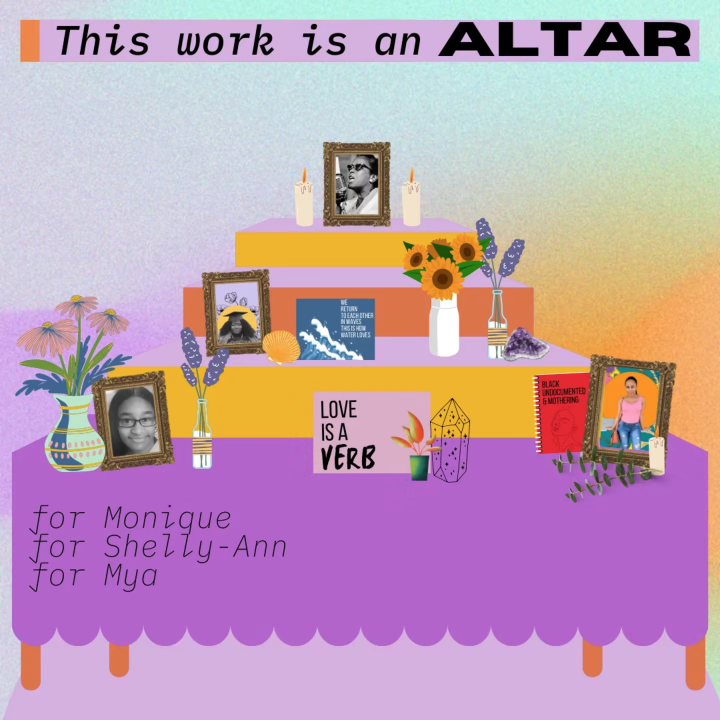 How did your background working in NYC public schools influence the design of Joy.edu?
This work is deeply personal to me. [When] I was 13 years old, the Board of Education issued a plan to cut all arts programming from NYC schools. My [friends in] chorus and I dressed up in our chorus uniforms and attended an evening community board meeting [addressing the cuts]. After an hour of testimonies, we were finally called to speak. I approached the podium and said, "This is what you'll hear next year." But we did not sing—instead, we were silent. I didn't know then that this moment would mark my commitment to raise my voice to fight for educational equity and that, 18 years later, I would be in art class for the first time since 6th grade, working alongside my students, imagining new models for school.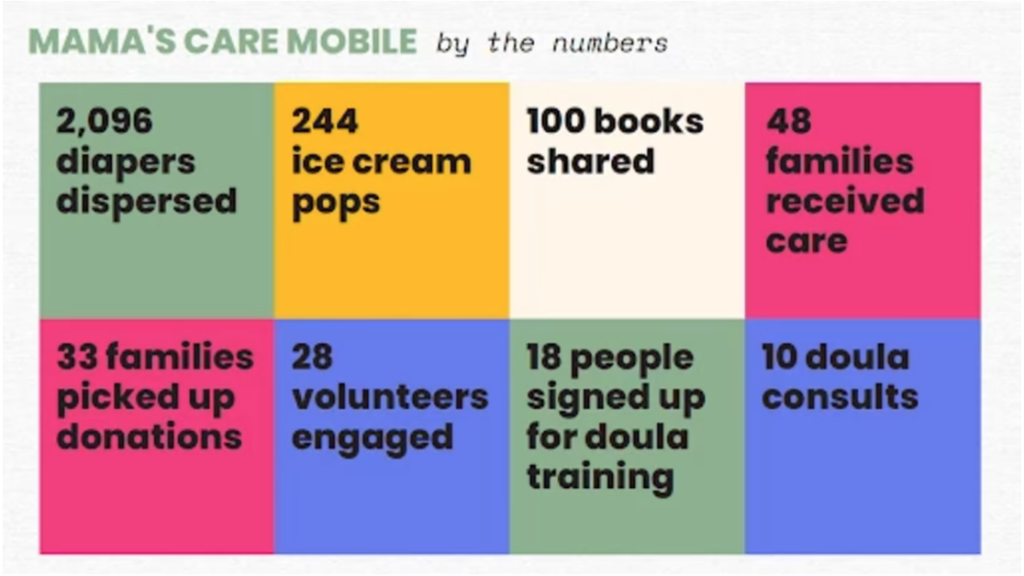 How did Mama's Care Mobile come together and why was it important to you to create it?
Nine years ago, I did my full spectrum doula training with Ancient Song Doula Services in Brooklyn and since then, I've been able to support many families in their family planning and birth experiences. In a time when reproductive rights and choice are under attack, I wondered how we might activate mutual aid networks to joyfully support the community, and more specifically, neighbors' needs. Ice cream trucks in New York City signify joy and the start of summer and I wondered how that joy could be applied to the perinatal healthcare space. How could mamas, especially mamas of color, get to experience the joy and love of community on their block?
Mama's Care Mobile is a community care experiment. I see the work of supporting pregnant people as deeply integral and interconnected to freedom work. Using the framework of reproductive justice, a term and framework created by Black women, we understand that a person's choice to parent is irrevocably connected to the choice to parent in a way that prioritizes dignity, autonomy and choice.
Mama's Care Mobile is a dedication to Monique, one of my former students, whose dream was to become a doula and support Black immigrant mamas like herself. I hope this work makes her proud.
Written by Maeri Ferguson