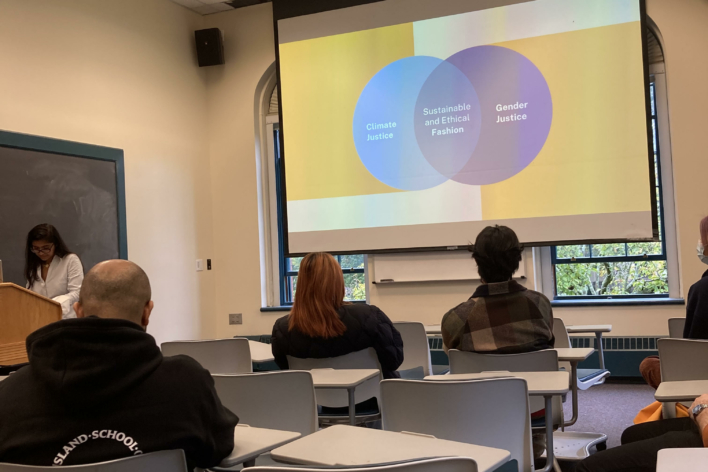 Diva Gohil (MFA DSI '23) attended the Better World by Design Conference in Fall 2022.
Hosted by Brown University and Rhode Island School of Design, this multi-day conference brings practitioners and students together to focus on design for transformative change.
Read on for Diva's reflections.
My thesis revolves around circularity and not creating waste, I am currently focusing on using biomaterials in the fashion industry and the challenges that are faced by people to adopt them on a daily basis.
Oddly enough some of the talks I attended almost preached things that were on the opposite end of the spectrum [from each other] which was so interesting to witness!
George Aye, the design director of Greater Good Studio which focuses on Social Innovation, explored drawing boundaries in his work life and getting comfortable saying "No" if the client doesn't completely align with his ideologies. He shared his practices by providing an example of a client break-up letter too for moments when the work doesn't align. 
Lisa Gautier, co-founder of the environmental public charity, Matter of Trust, makes hair mats that soak up oil spills. She spoke about having a "Yes, but-" attitude where you say "Yes" to all clients that come your way no matter how different your ideologies might be but reach a certain middle ground with both of their needs.
Will Tucker from Carbon, a company that rapidly designs, develops and scales production of better products in less time with the Carbon platform. He spoke about how minimizing time taken to 3D print enabled them to almost mass-produce products.
Listening to Kaanchi Chopra talk about her journey through sustainable fashion was so powerful and was left so inspired by Lining Yao's morphing matter innovations.
Kaanchi Chopra, designer and organizer from New Delhi, India and a recent Industrial Design grad from the Rhode Island School of Design,  spoke about revolutionizing the fashion industry by not buying new and holding big corporations accountable for their labor practices. She spoke about her time at Re.make, a global advocacy organization fighting for fair pay and climate justice in the clothing industry.
Lining Yao is the director of Morphing Matter Lab, a lab at Carnegie Mellon University that focuses on bio-inspired Material Engineering, some of the projects include Morphing Pasta, a project in food sustainability that involved flat pack pasta which when boiled, takes a new shape.
This absolute spectrum of thoughts, values, and how they show up in varied design practices provided me with different perspectives about what my future as a designer looks like.
Original text by Diva Gohil, edited by Carolyn Cesarotti