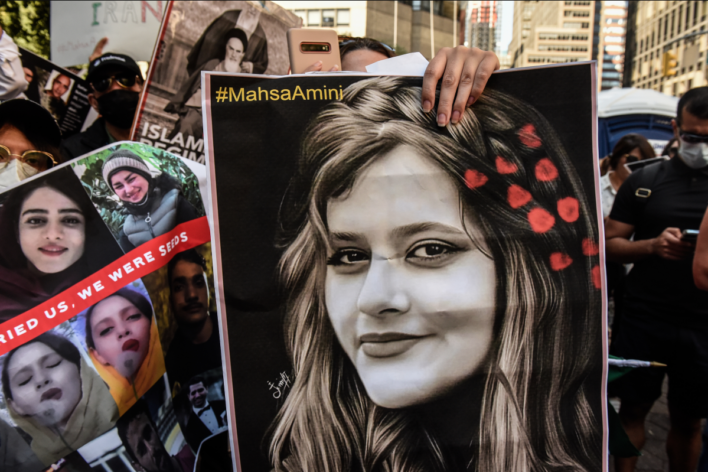 Artists and Activists Plan Mass Actions on Anniversary of Mahsa Amini's Death
Nearly one year ago on September 16, 2022, Mahsa (Zhina) Amini died after she was beaten into a coma by Iran's so-called "morality police" for allegedly wearing her hijab improperly. The day after Amini's death, protests erupted across Iran and rapidly spread beyond the country's borders. The ongoing movement adopted the originally Kurdish slogan "Woman, Life, Freedom" to denounce human rights abuses and the systemic oppression of women under the authoritarian Islamic Republic regime.
On Saturday, September 16, mass actions in dozens of cities across the country and world will commemorate Amini on the one-year anniversary of her death. Here in New York City, activist organization Woman Life Freedom NYC will lead a march across the Brooklyn Bridge and open an art exhibition that reflects on the past and future of Iran.
A member of the Iranian-based art and activism group Tehran Artist Circle, who asked to remain anonymous out of fear of government persecution, explained to Hyperallergic that the killings of hundreds of protesters; the internet crackdowns; the arrests of artists, activists, journalists, and professors; and the suspensions of students have stymied public protests in Iran, and the brutal governance of Iran has gone on largely unchanged.
"But the civil disobedience of the people inside Iran continues," the activist said. "It is a sign of Iranians' growth and courage; in other words, the more suffocation in Iran, the more protesting."
Leila Abdollahi Miller, a leader of the Woman Life Freedom NYC organization that has staged large-scale protests in the city since the group's founding last October, emphasized the artist's point, telling Hyperallergic that Iranians have continually performed acts of "micro civil disobedience": painting graffiti, singing in the streets, dancing in the subway, refusing to wear the hijab, and talking back to the morality police. She noted that Iranians continue to be punished for these actions.
"It's just a very emotional time as we reflect on the last year," Abdollahi Miller said. "I start to remember all the people who have died — and still feeling kind of stuck with this regime. I think people are eager for action right now."