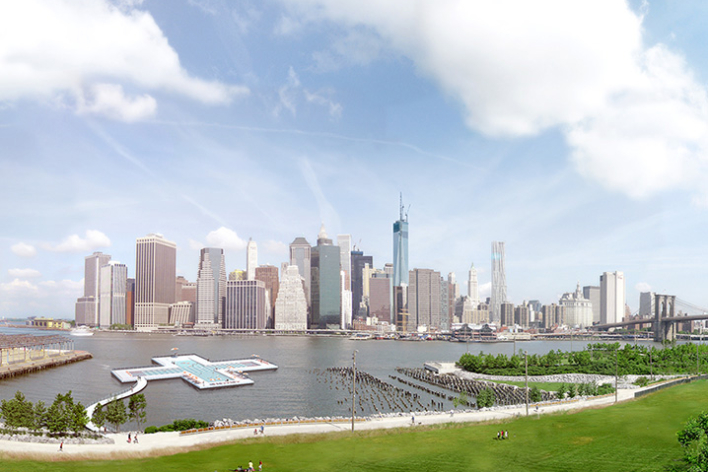 Opinion: How Paris is Out-Swimming New York City
"As yet another hot and humid summer approaches, exacerbated by the prospect of rising temperatures, we have fewer public pools per capita than any other major U.S. city and 520 miles of waterfront. As Paris reclaims its riverbanks for public recreation, here we sit in the Big Apple, surrounded by the Hudson, Harlem, and East Rivers, with zero access for swimming."
A little over a year from now, a hundred of the world's top athletes will be plunging into the murky waters of the Seine for a 1.5 kilometer swim. After it hosts the Olympics, the city of Paris plans to open 26 new floating pools—in the Seine—by 2025, four of them smack in the center of town.
This innovative expansion comes on top of thousands of Parisians who've been able to bathe in the Bassin de la Villette since 2016, making the French the undisputed global leaders in aquatic urban re-invigoration.
Meanwhile, as yet another hot and humid New York City summer approaches, exacerbated by the prospect of rising temperatures, we have fewer public pools per capita than any other major U.S. city and 520 miles of waterfront. As Paris reclaims its riverbanks for public recreation, here we sit in the Big Apple, surrounded by the Hudson, Harlem, and East Rivers, with zero access for swimming. Paris, the city of Vélib' (which pre-dated Citi Bike) and the Promenade Plantée (which pre-dated the High Line), is again leading the way; and we are falling behind.
So why are we unable to access our rivers for swimming in New York City?
Simply put, the regulation around public access to our waterways has not been revisited in decades. Since then, innovative technologies, advanced engineering and process controls have been developed that can support safe river access.
We have also greatly improved our waterways. As has been reported by the New York City Department of Environmental Protection (DEP), New York's rivers and harbors are the cleanest they've been in years. The average fecal coliform and Enterococcus levels have dramatically decreased over the last three decades, due in large part to the cessation of raw sewage dumping through the full build-out of New York City's Wastewater Resource Recovery Facilities, the elimination of illegal discharges into the water body and the reduction of Combined Sewer Overflows.
At Friends of + POOL, we have reviewed many of the new technologies and advancements with scientists and health risk assessors. We have even developed some of our own. But the current NYC health code does not support public access in the waters surrounding Manhattan. And yet, when you compare data from existing bathing beaches collected under the city's current monitoring practices, the case for river swimming with wet weather advisories is strong.
This article has been edited from the original format. Read the full article here.