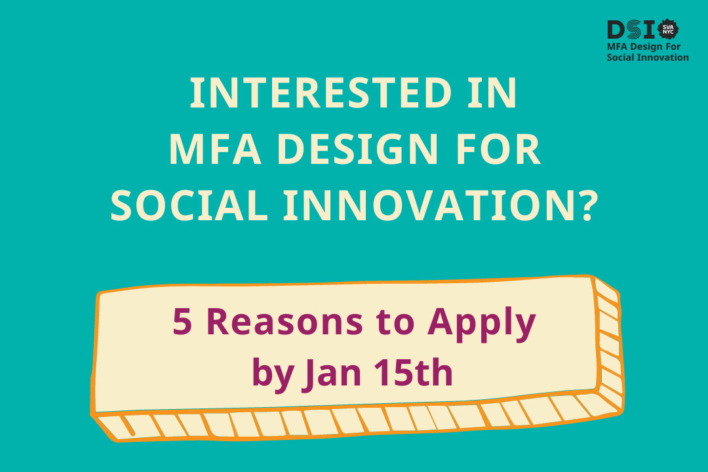 Thinking about graduate school?
At SVA's MFA Design for Social Innovation program, graduate students learn deeply about the challenging social issues of our time. We collaborate with organizations, communities, and thinkers who positively take action for the future. We explore how to challenge the status quo and strengthen the conditions and relationships needed to heal and grow. DSI examines systems critically to find root causes, reframe current narratives, and shape new design approaches that help us care and respond more creatively. It means we care about the health and well-being of all living beings and the planet. 
Interested? Here are 5 reasons why you should apply ahead of our priority deadline (January 15):
Start your journey now.

Why wait? Applying before January 15 increases your likelihood of being accepted into the program and guarantees an admission decision from us early, too (by March 15). 

Get financial support sooner.

Applying by the priority deadline means you are eligible for our $10,000 DSI Equity in Design and Paul Pollock scholarship awards, granted to one student each. Early applicants also have more time to access external scholarships and get ahead of the busy times.

Invest in your future.

DSI is STEM-certified. For international students, it means you get 24 months of F-1 visa extension. Plus, STEM certification grants unique opportunities for scholarship and grant funding available for all students! 

Be connected and build relationships.

If you don't have a design background, it's ok! Applying early means you can get to know our diverse faculty, students, and alums working in social innovation in various amazing places, not just design! (P.S. We have leaders and practitioners visiting through our Global Guest Lecture series every week, so you can plan to sit in.)

Act locally, think globally

. Start your adventures in New York City, where leading organizations are doing this work (U.N., global organizations, creative studios, mutual aid organizations, etc.). Get settled early and start building pathways for collaboration. Plus, you can tap into SVA's activities and global network with a lasting legacy!
So, if not now, then when? Apply Now!
If you still have more questions, join our virtual "Ask Us Anything!" on December 14 at 9:00 am EST. Register to receive the zoom link.